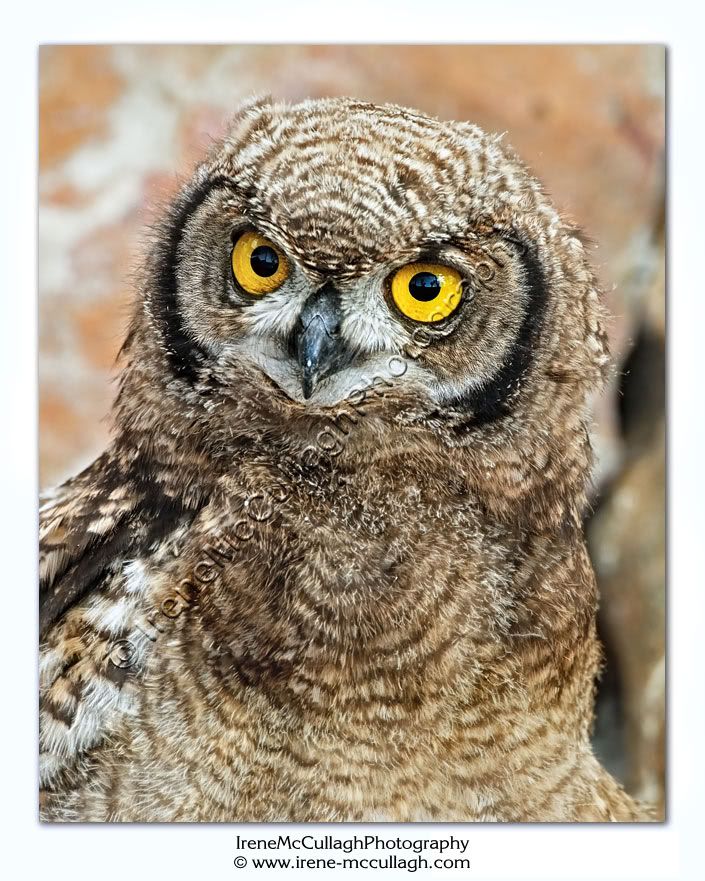 All sorts of things:
I've had a birthday (12/12, last Saturday) and spent it on the top of Table Mountain. I left home at 8 to join the first cable-car going up and then walked +- 1 hour to the highest point; Maclear's Beacon, where I stopped for some rest in a little shady cave, before walking back via a different route, giving me extensive scenic views to either side of the mountain top. Always breath-taking and always wonderful!
Last week I did a job in Stellenbosch and it was hot hot hot. On my way back I stopped off at Spier, where I took this photo of the young own at Eagle Encounters. Apparently the owl is 7 weeks old in this picture...

My mother ... at age 96 she is suffering through an outbreak of SCABIES at her care home

this can only be due to poor hygiene practises there... horrible to think about, nasty little skin parasites that make her itch and itch and itch! YUK. Thus I have been avoiding her - no kisses, no hugs, no outings in my car, all for fear of the little mites infecting my family too. Of course that makes me feel guilty at neglecting her, because I know that my visits are the highpoint of her existence. Awfully frustrating.
The year has surely flown by in a flurry of speed. We've had very high winds here on Sunday; reports state that it reached gusts at 178 km/h causing damage to our house and many other structures, as well as smashing yachts at the marina and blowing the roof right off a school building. Front page news.
I'm proud of my two wonderful children : my daughter who has worked very hard and earned the praise of her superiors at the advertising agency she works at as a designer; and my son, who has completed Grd 9 with good marks and will be entering his final year of high school in 2010.
Go visit them too

and

I wish all of you a wonderful end of year, happy holidays and a relaxing time with family.
Please understand that I may not have time to get back to all of you who comment or kindly fav my work. Do know though, that it makes me very happy that you enjoy my work and I appreciate all comments and wish to thank you all very much.










Please respect copyright - © Irene McCullagh 2005-2009
All rights of this gallery are reserved to *substar* - Irene McCullagh. None of the images may be reproduced, copied, edited, published, transmitted or uploaded in any way without my written permission. You may not alter or merge an image to create a derivative work. My work does not belong to the public domain. Thank you.